TRAIL MAINTENANCE PROJECTS
NEW BORDERLAND BRIDGE A SOLID SUCCESS
On Sunday May 16th,2003 members from SEMASS NEMBA assembled at Borderland State Park for a trail maintenance work day. The intended project plan was to replace an old water crossing bridge on the West Side Trail. This old, fallen down bridge had a history of being unsafe for both hikers and mountain bikers alike. The crossing was built over 15 years ago and required frequent repair and maintenance by park staff. The old bridge construction method consisted of 8 foot long planks laid length-wise on top of cedar log bases, with everything affixed using nails. Sections were not attached to each other — typically causing instability — and more often than not, large sections were under water in the Spring, making the crossing all the more risky.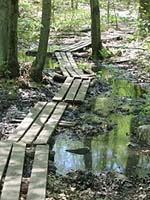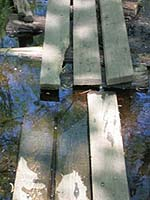 It didn't take long before the bridge earned the apt nickname "Bridge of Death." By the nature of the bridge's construction, the spacing between planks was such that anyone who had the guts to ride a bicycle across it was taking their life into their own hands. The spacing was such that a mountain bike tire fit in between the planks with ease (see inset picture). A miss-steered front wheel usually led to an OTB (over the bars) type crash – and the bridge was even known to taco a few wheels in its day.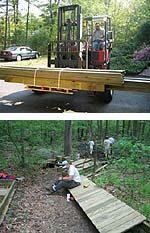 This bridge project was unique from the typical NEMBA bridge installation in that the new bridge was built in sections off-site rather than on the trail. The sections were then carried in, set on footings and attached, bolted together, and topped off with any remaining decking. It was a risky proposition to pre-build the bridge, but in the end, just over fifty feet of bridge were installed in 4 hours time…despite the deep mud at the work site – and nasty mosquitoes! But It was especially pleasing to see such a nice, sturdy product after only four hours of work time. For certain work sites, pre-building can save a lot of field labor if done properly. Fortunately, we had vehicle access to get the sections into the forest most of the way. And we'd definitely recommend pre-building sections for a bridge project like this in the future
All participants shared a lunch provided by NEMBA afterwards, and all were entered in the annual drawing for the TOMAC mountain bike that NEMBA gives out each year. Many thanks go out to the NEMBA volunteers who took time out of their weekend schedule to help build and install this bridge.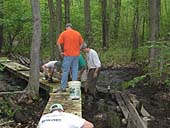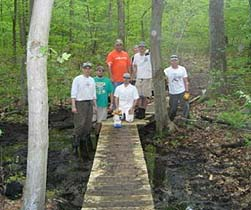 Bridge builders: Chris Patrick, Ed Brown, Rich Higgins, Dan Ibbitson, Andrew Walter, Dave Riding, Paul Peaslee, Joe Sloane
Photos by Ed Brown
More photos…
If you live or do most of your riding in our region, we hope that you'll join SEMASS NEMBA and help us make all of our trail experiences more fun.
HOME RIDING ZONE ABOUT US ADVOCACY EVENT SCHEDULE PHOTOS JOIN NEMBA LINKS