RIDING in SEMASS
There are many great places to ride in Southeastern Massachusetts.
To keep trails open for all to use, follow these rules:
Onlyrideontrailsopentobiking
Yieldtoothertrailusers
Rideorcarryyourbikeoverobstacles.Avoidwideningtrailsbyridingaroundobstacles.
Planahead-bringplentyofwater,tools,sparetubes,andfoodifyou'llberidingforacoupleofhours.
Wearahelmet
Don'tlitter
Findoutwhenhuntingseasonstartsandends!
JoinNEMBA!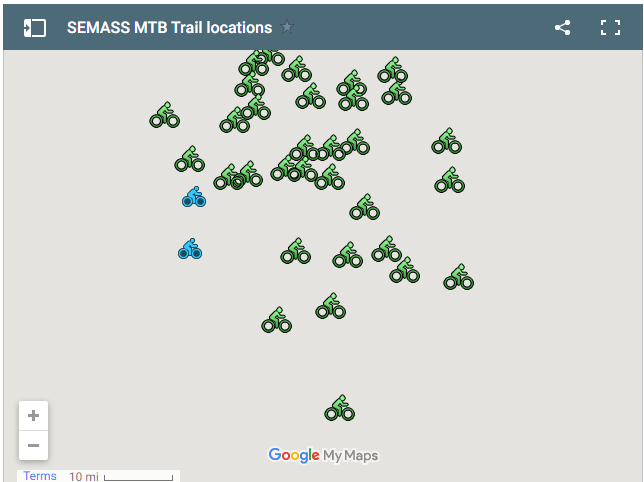 View SEMASS MTB Trail locations in a larger map
GROUP RIDES
If you are going to participate in one of our many group rides, you should ask the ride leader exactly what type of ride he or she is planning in terms of distance, pace and technicality. Also, be realistic about your level of riding skills and do not join a ride that is beyond your present ability or fitness level.
The following ride categories are general guidelines:
MBA: 10-20 miles. A ride on a marked course for all ability levels. Normally includes short and long loops. Call ride leader for more information.
EFTA/NEMBA: 10-25 miles. Marked loops for all ability levels. Normally includes multiple loops. Call ride leader for more information.
Kids/Family: 2-10 miles. Usually easy pace and terrain. These rides are designed for parents with young children.
Beginner: 2-7 miles. Easy terrain, easy pace. These rides are aimed at riders with little or no riding experience.
Novice: 4-9 miles, mellow pace, easy terrain, frequent stops.
Advanced Novice: 6-10 miles. Mellow pace, mostly easy terrain or technical terrain done slowly; frequent stops.
Intermediate: 10-20 miles. Moderately technical, somewhat faster pace occasional stops and bail out points. Intermediate rides are designed for people who ride frequently, and have some skills, but who probably do not enter races.
Advanced Intermediate: The same as intermediate, except faster and harder terrain.
Advanced: 20-30 miles. High technical difficulty, fast pace, few stops or chances to bail out. These rides are intended for advanced riders or, racers who would like to go for a challenging ride at less than all out race pace.
Women: Can be any level of difficulty. Call ride leader for more information.
HOME RIDING ZONE ABOUT US ADVOCACY EVENT SCHEDULE PHOTOS JOIN NEMBA LINKS