TRAIL ADVOCACY and MAINTENANCE PROJECTS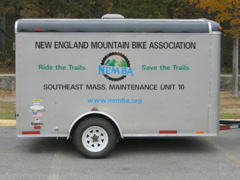 ClickTo Learn More About SEMASS NEMBA's TOOL TRAILER
ADVOCACY
NEMBA's Trail Maintenance
Here are a few of the things that we've done to help maintain the trails. The funny thing about working the trails is that it's pretty addicting. Not only is it a lot of fun spending a few hours getting dirty and doing some good, but you'll never walk or ride a trail again without realizing all that goes into designing a sustainable trail. It's both a science and an art!
rolex datejust 36mm ladies m126284rbr 0005 automatic
Trail Maintenance Events
Come lend a hand taking care of the trails or building new ones!
NEMBA Trail Grants
Each year NEMBA awards $500 grants totalling between $4,000 and $5,000 annually for trail projects in New England that benefit mountain biking.
NEMBA's Bicycle Patrols
NEMBA has bicycle patrols in Connecticut, Massachusetts, and Rhode Island which serve to educate and assist trail users in numerous parks. Contact the patrol director in each state to find out how you can join.
Share the Trails Brochure
Be aware that not all properties are open to mountain biking, but in those that are, remember that you'll be sharing these lands with hikers, runners, equestrians and nature lovers.
How To Install Rolling Grade Dips
Rolling grade dips can be more resilient than waterbars. Unskilled riders can skid and create ruts on the back side of the waterbars. Here's how IMBA's Trail Care Crew "rolls their own" rolling grade dip.
Designing Multiple-Use Trails
Kurt Loheit, the Trails Resourse Director for the International Mountain Bike Association, is one of the nation's premier experts in trail design.


How To Install Geoweb
Geoweb is a versatile material. In this project, we used geoweb to create a raised turnpike in a muddy area next to a pond.
HOME RIDING ZONE ABOUT US ADVOCACY EVENT SCHEDULE PHOTOS JOIN NEMBA LINKS